Outgoing Crusaders Assistant coach Andrew Goodman will remember the good times in red and black as he leaves New Zealand's shores in search of a fresh challenge with Leinster Rugby in Dublin.
Before he left, we sat down with "Goodie" to recap his extremely successful stint with the Crusaders.
Signing with the Crusaders in 2018 after one season with the Tasman Mako, Goodie jumped at the opportunity to join a team like the Crusaders after receiving a phone call from Razor Robertson,
"Yeah, you know how much energy Razor's got on a phone call like that and he sold the dream – not that he needed to because as soon as I learned about the opportunity, I was really excited to come down here and learn from an amazing bunch of coaches and players. So yeah, it was an exciting time."
The prospect of playing his part in adding to the history of the Crusaders was one that initially intimidated Goodman, but the decision to make the move proved to be a good one.
"I was a bit nervous coming down here with some of the playing group and the legacy at the Crusaders, but I'm so happy that I made the decision to come down."
Reflecting on some of his favourite on-field memories as a crusaders coach, Goodman is spoiled for his choice of highlights,
"Yeah it's been a journey. Its been an amazing journey…I said it to the boys at the end of the season but it's been about the people for me"
"Yeah there's been some awesome moments… a special one for me was seeing someone like Leicester [Fainga'anuku] make his debut for the Crusaders and a pretty special presentation after the game. That will always be a memory that I will treasure."
"We've had a long relationship, from Nelson College, through to Tasman and now at the Crusaders together, so that was special."
Reflecting on the Crusaders most recent Super Rugby Championship win against the Blues at Eden Park, Goodie looks back with fond memories,
"This last game at Eden Park, to finish that way with the performance the players put out on the field, the effort that went into that, to see them play like that on such a big occasion, I'm going to remember that for a long long time it was pretty special.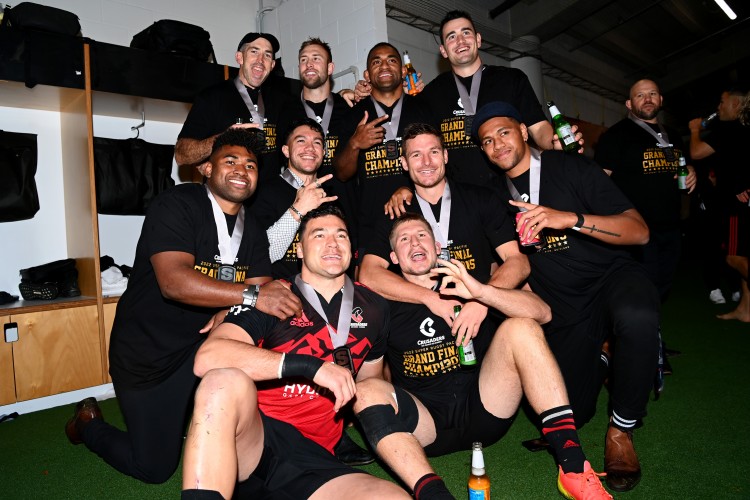 A father of two young boys, Goodman has loved watching his sons grow up in the Crusaders environment.
"My two boys getting the chance to come down here and run a round at Rugby Park or in the changing rooms after the game, getting them on the field at the stadium. Little max talking about the horses going around the field - that was his favourite part of the Saturday tradition. The involvement my family has been able to have and meeting everyone from outside the organisation, everyone else's families and connecting with them."
Goodman's parting words to the Crusaders fanbase are filled with gratitude as he moves onto the next chapter of his career,
It's a massive thank you really, to everyone involved at the Crusaders, not just the people in the organisation but the fans who have made it so enjoyable to turn up to our home games. Or when we've been away, the support you've given this team has been massive. It's a very very special place and I'll cherish these moments forever. Hopefully, one day, we can be back amongst it again."