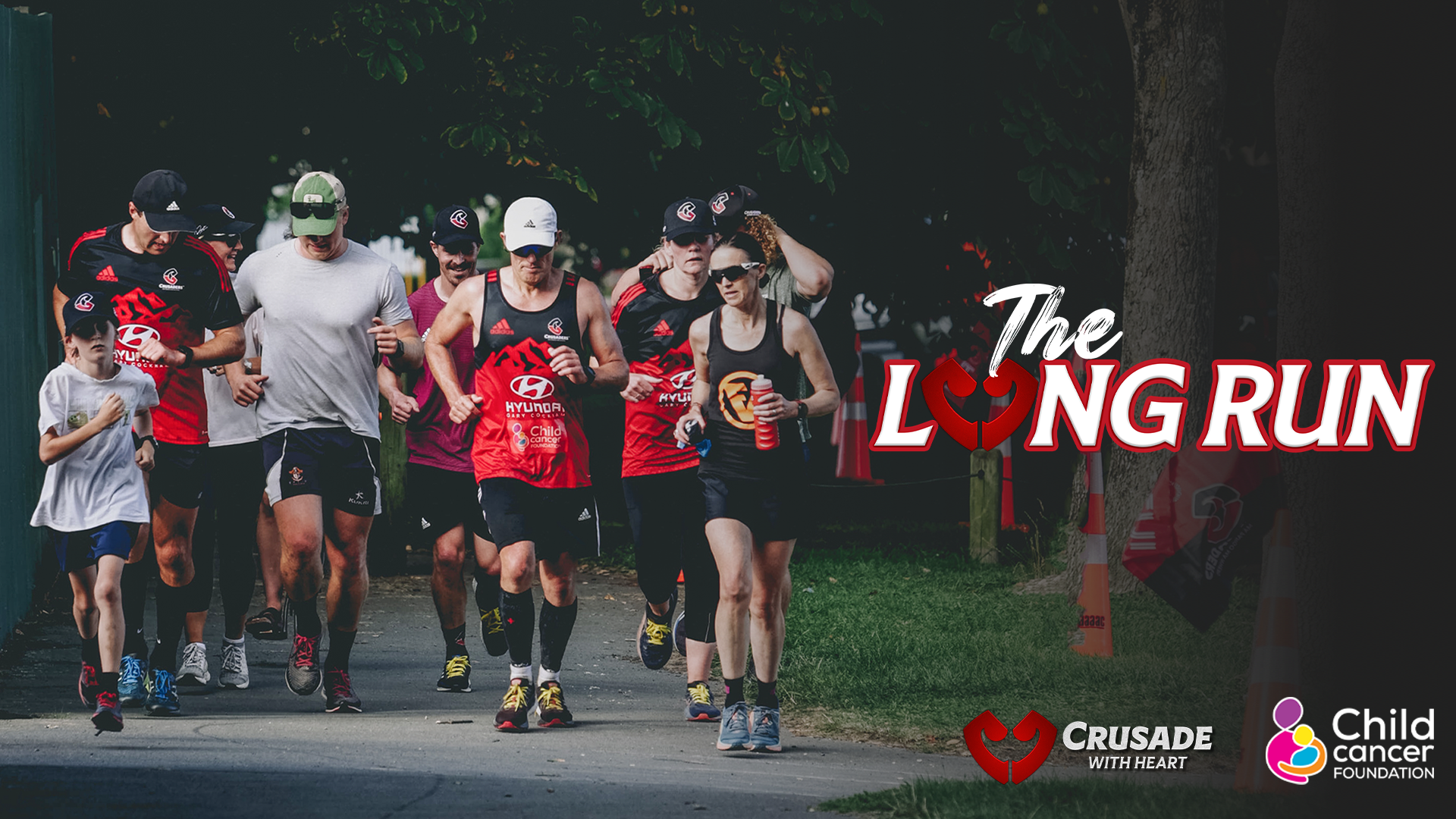 A $10,000 prize given to the Crusaders for a team award will kick off fundraising for one of the club's main community events for 2023.
The club was awarded Australasia's Best Sporting Team (ABST) award at a ceremony at Rugby Park on Monday morning. It's the second time the club has won the award.
Alongside the honour of winning, the Crusaders were presented with a cheque for $10,000 which the club is using to kickstart The Long Run, a community run and charity event aimed at raising much-needed funding for the Child Cancer Foundation.
The event is taking place on 27 January 2023, incorporating a 153-lap relay race around Rugby and Malvern parks – recognising the 153 Kiwi kids diagnosed with cancer every year.
It builds off the success of Crusaders Academy Manager Aaron Webb's efforts in early 2022, when he ran 112 laps of the park (102km) raising more than $20,000.
The commendation is awarded annually by Platinum Asset Management in conjunction with GAIN LINE Analytics, and recognises the team with the best record over the last five years across 21 sports with home and away competitions across Australasia.
Colin Mansbridge, Crusaders CEO, said while the award identified that we are leaders in sport, "we are equally proud of the role we play off the field in our community".
"We're so grateful for this recognition and proud of the fact that we can take the $10,000 donation and put it towards The Long Run, our upcoming Crusade With Heart initiative raising money for The Child Cancer Foundation," Mansbridge said.
Douglas Isles, Head of Investment at Platinum Asset Management, said Platinum Asset Management (Platinum), in conjunction with GAIN LINE Analytics were delighted to name Crusaders as Australasia's Best Sporting Team (ABST) for the second time.
"ABST was set up in 2018 to recognise sporting success, and to support great causes, with Platinum making a donation to the Crusaders' chosen charity, Child Cancer Foundation. "
The Crusade With Heart Foundation is a Charitable Trust set up by the Crusaders to build belonging and connection beyond the Rugby Field and increase the positive impact the club can have on our community. Through the foundation, the Crusaders' ambition is to be one of the most impactful sports teams in the world.
By partnering with established charities and organisations who are experts in their areas, whilst using our voice, channels, and resources, the Crusaders are hopeful their positive community impact with grow year on year.