Tasman Mako co-coach Dan Perrin has been named as the new Crusaders forwards coach for the next two seasons.
After being promoted to Mako co-coach alongside Gray Cornelius at the start of 2022, Perrin has been called into the Crusaders coaching staff as they chase another Super Rugby title when the season starts in February.
Perrin recalls the moment a dream became reality when he received a call from Crusaders General Manager Professional Rugby, Angus Gardiner,
"I got a call from Gus to say I was on the shortlist for the job and then a wee while later on a Tuesday night I got another call saying that they'd selected me to take on the role."
"It was awesome, massive emotions it was a really proud moment for me and my family, so it was a 'yes' straight away, you'd be silly to say anything else."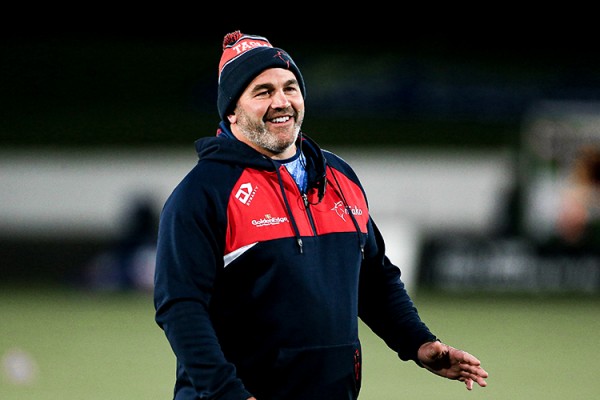 Following a recent trend of Crusaders players and staff being recruited from Tasman, Perrin walks in the footsteps of former Mako and Crusaders Assistant Coach, Andrew Goodman. Perrin has nothing but fond memories of working with Goodman, who left Crusaders this winter to Leinster in Ireland,
"Goodie's an outstanding leader and very good man, very passionate about Mako and the Crusaders. His work ethic, rugby IQ and the connection he had with his players were a couple of things that I tried to take with me. We played together back in the day, and we were really good mates off the field too. We had a good understanding of how we both operated so I really enjoyed my time under Goodie."
Perrin is looking forward to having opportunity to put his own stamp on an important role in such a successful rugby franchise,
"I want to bring my own personality to the role, put 'Dan Perrin's spin' on it. I've done my apprenticeship under Jase and have been really lucky to learn under him, but I think it's important to coach as Dan Perrin and through my own personality."
"One of my coaching philosophies is around whanaungatanga and building relationships and that's probably one of the first things I'll look to do when I get down there."
Perrin, a former Crusader himself, now finds himself coaching his former team. The Crusaders culture is something Perrin remembers from his time here and is something he is looking forward to immersing himself in again. When asked what he remembers most about his time as a player, he had a simple answer,
"The professionalism. We had some of the greatest of all time in Richie [McCaw] and Dan Carter. To rub shoulders with some of my idols, Corey Flynn, Brad Thorne, Chris Jack, just the culture and the work ethic are a couple of things that really stand out. I think these values have been held onto for a long time down there so I'm really excited to get back into it."
Perrin joins the Crusaders in the lead-up to the start of the 2023 Super Rugby Pacific Season.