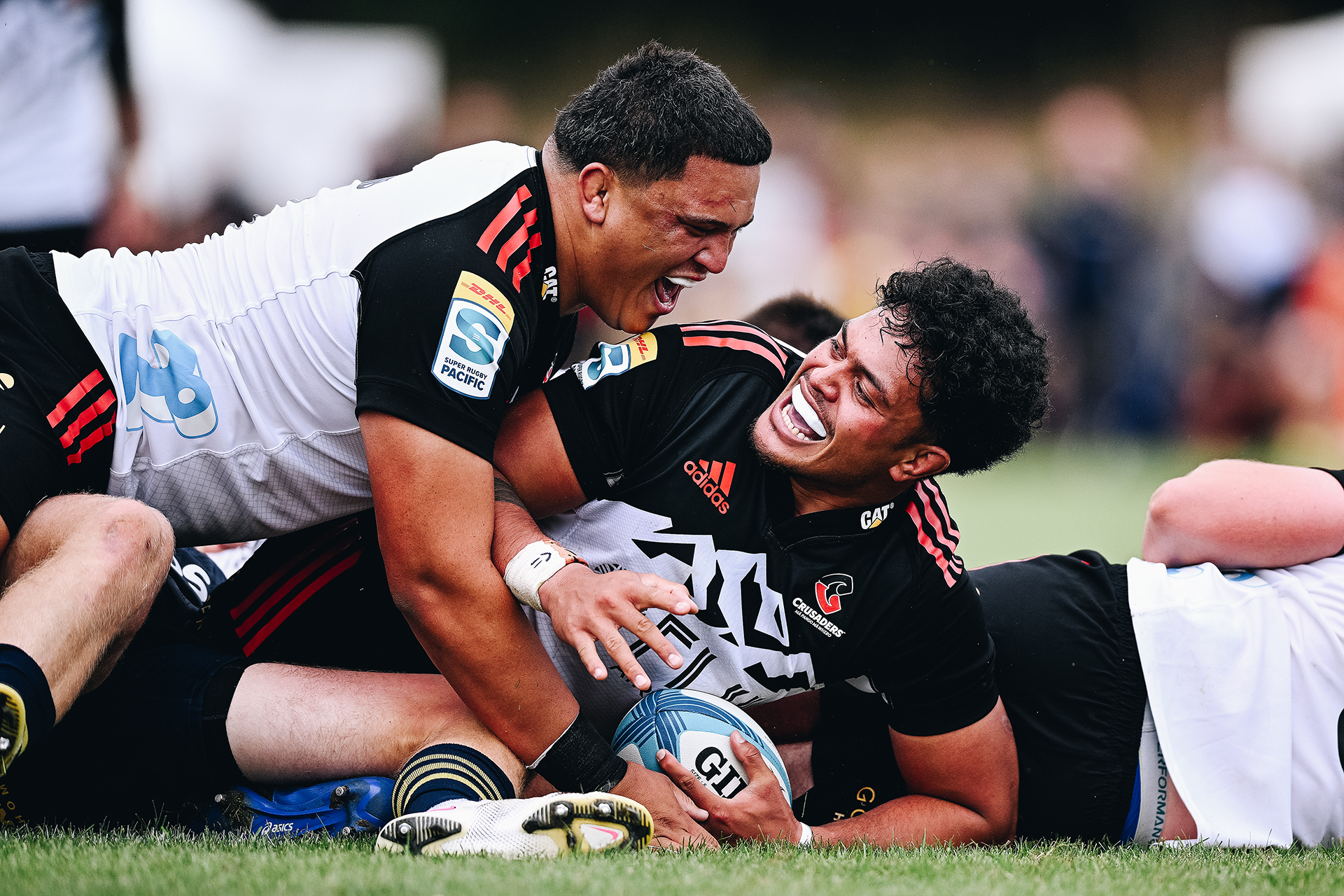 They say it was the biggest crowd ever at Weston Park, and boy were they treated to a show.

In a game of two halves and two different starting sides, the Crusaders took on the Highlanders for the Farmlands Cup, a treasured heartland battle that this year took place just inland of Oamaru, North Otago.

Valley Sports Club president Hamish Loe told the Otago Daily Times he reckoned at least 4000 turned out for the occasion - "as full as I've seen Weston Park" in his time there.

Pepesana Patafilo opened the scoring, dotting down before Jack Goodhue, Christian Lio-Willie and Corey Kellow – with three conversions from Fergus Burke – made the score line 27-6 heading into halftime.

Louie Chapman's second-half try, converted by Taha Kemara, finished the scoring for the red and black with a runaway try from Highlanders' Jack Taylor clinching it for the southerners in the dying seconds.

Epic mahi from everyone on and off the field to deliver what Crusaders Head Coach Scott Robertson described as a "really great occasion".

"Yeah it was just really awesome to play in front of the community, and what an epic turnout for the Farmlands Cup, Robertson said.

"Great to see Jack Goodhue and Joe Moody out there, how good to have them back in action.

"No injuries from the game and just a great runabout ahead of the season properly starting."

The Crusaders take on the Hurricanes on 17 February at Levin Domain for our last pre-season game, before Super Rugby Pacific 2023 kicks off on 24 February when we take on the Chiefs at home at Orangetheory Stadium.

Tickets are on sale now and memberships are still available.

At Weston Park, North Otago:
Crusaders 33 (Pepesana Patafilo, Jack Goodhue, Christian Lio-Willie, Corey
Kellow, Louie Chapman tries; Fergus
Burke 3 con, Taha Kemara con).

Highlanders 35 (Scott Gregory, Jonah
Lowe, Sean Withy, Jack Taylor (2) tries, Cam Millar con, Sam Gilbert 4 con).
HT: 6-27