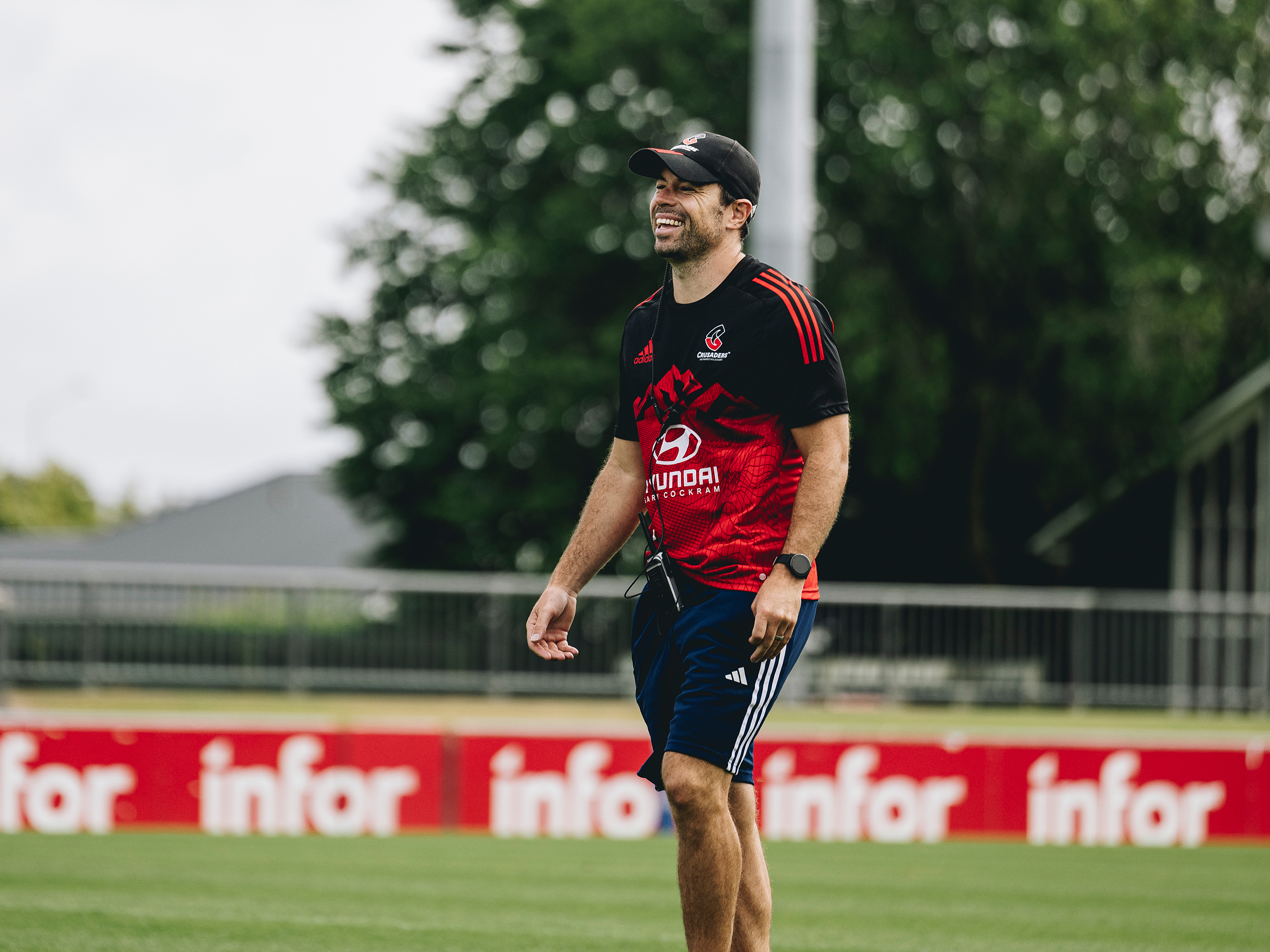 For Crusaders Assistant Coach James Marshall, it's been a long time coming taking the field at Rugby Park.
The 34 year old always wondered what happened behind the green fences, especially through his time playing for Tasman, Taranaki and the Hurricanes – including when the Wellington side took out the Super Rugby title in 2016, their first win.
"As a young player I missed out on the Crusaders, didn't pick up a wider squad or academy gig so had to pursue other opportunities," Marshall said in week one of training ahead of the 2023 season, his inaugural with the boys in red and black.
"I could never crack it as a player here but now we're here as a coach and just super excited, it's definitely pretty surreal to be here now," he said.
Born in Auckland, Marshall moved to Nelson when he was eight years old, playing rugby through school grades before picking up a contract with Tasman in 2008 aged 19.
He played a varied career from then – a six month contract with Italian side Aironi in 2010, back to Tasman in 2011, a four-year deal with Taranaki in 2012, a championship-winning stint with the Hurricanes between 2013-2016 – and again in 2019-2020 – more than 40 appearances with London Irish between 2016-2018 and 15 for Japanese side Coco-Cola Red Sparks between 2018-2020.
His coaching career kicked off in 2020 with the Hurricanes, transitioning quickly from player to coach. He said the call from Razor came out of the blue.
"After more than 20 moves and different houses that we lived in throughout my career, at the end of it I said I wouldn't be chasing the coaching dream and wouldn't move the family round any more," he said.
"But then a couple of years later I get a call from Razro and that really threw a spanner in the works – but it was a no brainer really."
His youth and relatively recent game time gave him an edge and a closeness to those on field.
"I messaged David Havili to make sure he thought I'd be a good fit. I didn't want to come down here if I didn't have the backing of the players, so yeah it was really important for me to get a message back from him saying how much I could add to the environment," Marshall said.
Rather than be intimidated by or feel the pressure of the Crusaders track record, Marshall said he was just "excited to get stuck in".
"The first day I got shown around, the first thing I noticed when I got in was all the trophies at the entrance. Being at the Hurricanes we won it once, but I haven't been involved with many teams that have trophies just sitting there on the desks as you walk in," he said.
"You get that instant feeling of success. It's pretty buzzy really when you walk around here and see where you are.
"For me, it's about learning and seeing now where coaching can take me. I'm most looking forward to working with the other coaches and learning as much as I can off them, and off the players. Everyone here is world-class."
CHECK OUT THE FULL INTERVIEW HERE