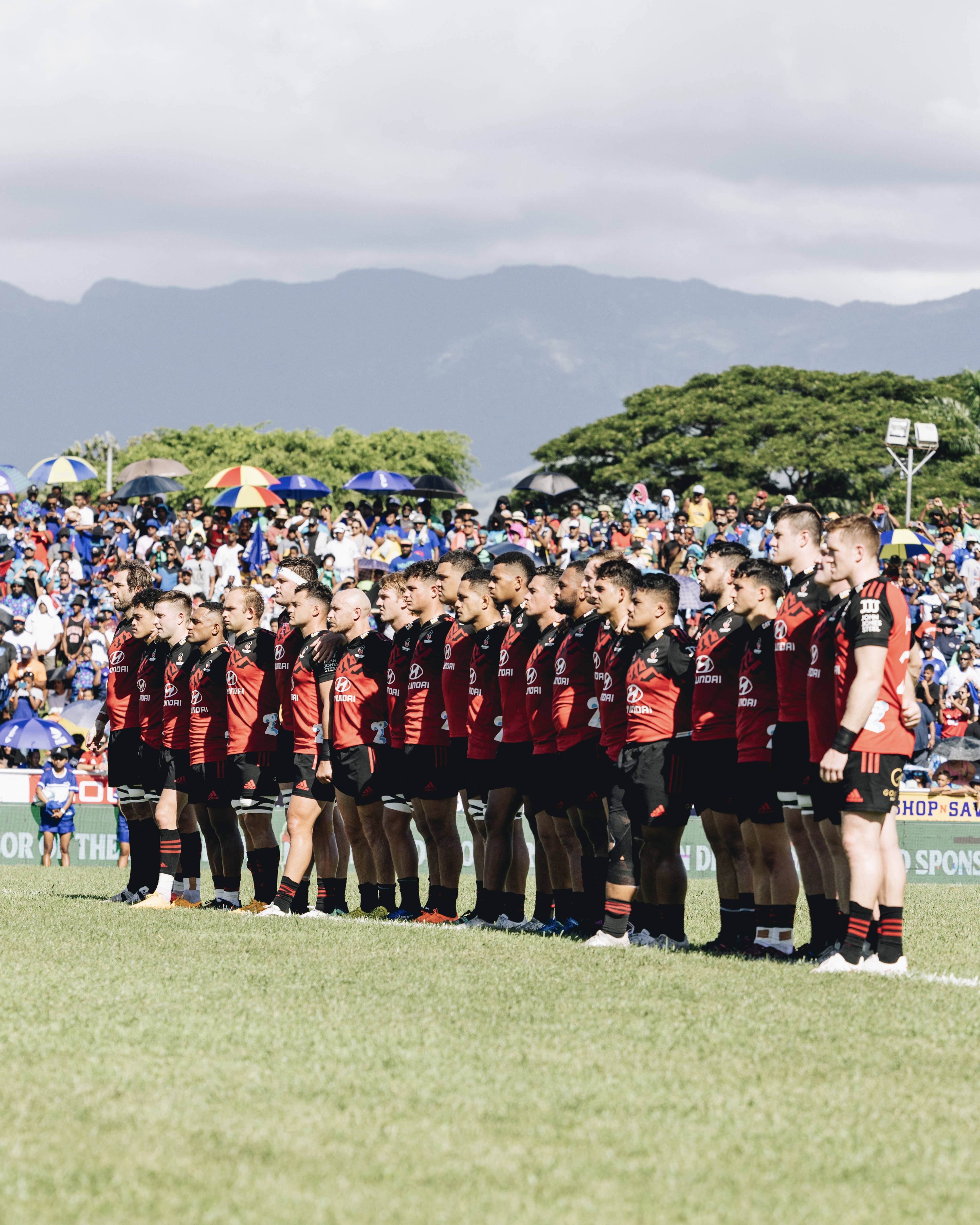 The crowd turned up, as did the heat, when the Crusaders took on the Fijian Drua at home in Lautoka on Saturday afternoon. A true Pacific rugby spectacle, the locals came away with the goods 25-24 in a nailbiting Round 3 of Super Rugby Pacific 2023.
Scott Barrett celebrated his 100th match for the franchise, and three Crusaders debuted in the red and black in front of 16,000, a momentous occasion for locals and visitors alike. The Crusaders had 22 Centurions, now they've got 23.
Quinten MacDonald, in his first appearance for the Crusaders since 2012, opened the scoring in the 11th from a strong set piece and followed in the 22nd in a similar fashion. A huge return for the 34 year old, backed up with Fergus Burke slotting his conversion. 12-0.
The Drua's capitalisation on loose ball began in the 31st with Iosefo Masi sprinting 50m to score the home side's opening try. 12-5. Half time.
Metres made in the first 40 showed the Drua enjoying running rugby in the midfield, notching up 213m to the Crusaders 126m, but possession remained balanced with Crusaders at 55 per cent.
Ten minutes into the second half, Ilaisa Droasese made it 12-10 before Teti Tela converted to even the score. Two more unconverted but unanswered tries for the Drua took the locals into the lead before the clock ticked over 70 minutes. 12-22
The atmosphere at Churchill Park was feverish among fans and players as the match entered its dying minutes. Sevu Reece clawed back some points in the 74th, and debutant Ioane Moananu followed in fine form in the 78th, Burke adding the extras to give the visitors the lead once more with 60 seconds to go. 24-22
On debut for the Fijian Drua, Kemu Valentini missed a drop goal in the 81st, only to back it up with a successful penalty in the 83rd. 24-25. Full time.
A historic win for the Drua in their second Super Rugby Pacific season, and their first home game of the 2023 season.
Speaking shortly after the whistle, Crusaders Captain Scott Barrett said the team "got what they expected, and that's a tough Drua side at home".
"We saw how dangerous they are, they capitalised with their skill in running play," Barrett said.
Speaking about his 100th game, Barrett said it was "bittersweet" to mark the milestone but not get the job done.
"Grateful for all the support here in Fiji and back home, it's been an awesome week, but a bit gutted we didn't get the job done," he said.
Crusaders currently sit 7th on the Super Rugby Pacific standings with six points from three games.
The boys take on the Blues in Auckland next weekend, Saturday 18 March, at Eden Park.