Richie Mo'unga is relishing the "really special" opportunity to play for the All Blacks in front of a home crowd.
This will be the first test Mo'unga and many of his teammates have ever played in the garden City, with the last All Blacks match being played in 2016.
Reflecting on that 2016 test, Mo'unga remembers attending as a fan with his friends and family,
"In 2016 I was able to go to the game here and watch the All Blacks. I actually remember going with my wife and her sister and we forgot our tickets, so we had to get in touch with Bianca (All Blacks Operations Manager) around getting us into the game, so already we were able to meet some staff and management of the All Blacks, obviously not knowing that down the track I'd be part of the team."
In the week leading up to the game, Mo'unga has been reflecting on his journey to the pinnacle of New Zealand rugby, as he recalls a kicking session he had with some All Blacks greats,
"I remember in 2013 I was able to have a session with the kickers, Aaron Cruden, Dan Carter, Beaudie [Barrett] was there. Just to be able to have those opportunities and experiences just drove my hunger to be in here even more and it was something that really inspired me, rubbing shoulders with the best."
Mo'unga and his Crusaders teammates have the extra motivation of playing in front of a home crowd this weekend, speaking on this, Mo'unga said
"We're from a very proud city when it comes to rugby. First of all, we want to get the opportunity to play in the All Black jersey and then make our friends and family proud. It'll be really special when we do get that chance. We don't get many chances to play tests here in Christchurch and I don't think there'll be another one for a while."
Speaking of his mindset ahead of each game and the All Blacks next challenge, Mo'unga said,
"My energy doesn't change, whether I'm in the 15, in the 23, or not in the 23, I have a real 'team-first' mentality of just preparing everyone to play and to be the best they can. But just really happy to get a run [in Johannesburg] and get a good performance out of the lads, hopefully we can just continue that, I think that's gonna be the big challenge."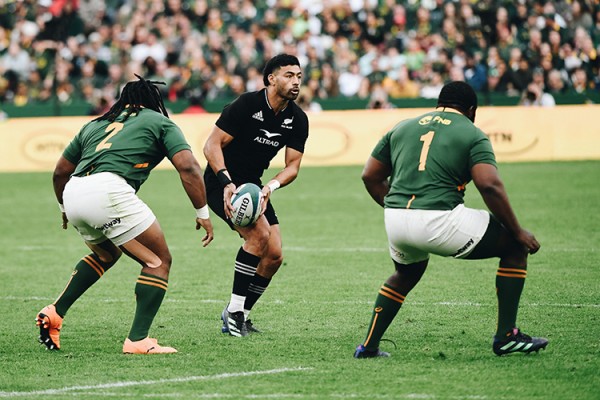 The All Blacks play Argentina this Saturday night at Orange Theory Stadium