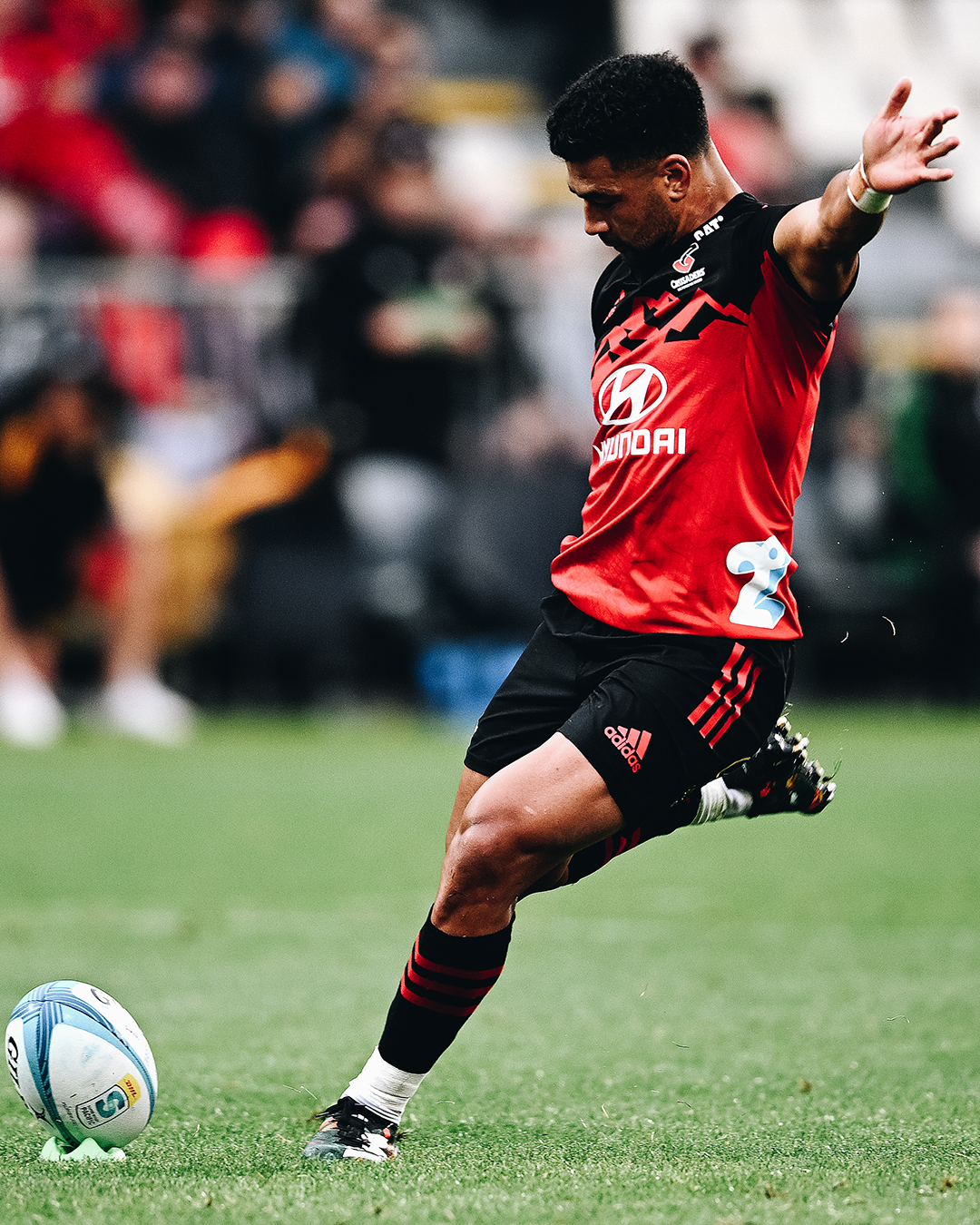 There have been 24 men to come through the doors at Rugby Park and gone on to play 100 games for the Crusaders. It's no mean feat.
This Friday it's Richie Mo'unga's time.
A huge achievement for a player who has chartered a course to greatness through determination, consistency and loyalty to a club he's idolised and dreamed of since he was a young boy.
"My earliest memories of the Crusaders are watching with my Dad. We'd watch the Crusaders every weekend and it was something we did together," Richie said.
"It was pretty clear I wanted to be a Crusader, just as much as he wanted me to be one, so this is a vision of mine but I'm definitely living my Dad's vision as well.
"Ever since I walked through those doors, and I saw how celebrated the centurions are, I wanted to be one myself."
Richie debuted in '16 against the Chiefs at a time when the Crusaders hadn't won a title since '08. He signaled the '17 final in Johannesburg as a defining moment in his career, the red and black taking the final 25-17 to kick off their six-year reign as kings of Super Rugby.
"We were a young keen team that hadn't had much experience, and a franchise that hadn't won a title for some time…we proved a lot of people wrong and had so much fun doing it," Richie said.
At 28 years old and with two young kids at home, the family man made the decision in late '22 to move to Japan on a three-year contract with Toshiba Brave Lupus Tokyo after the culmination of the '23 Super Rugby Pacific season. But not before ticking off an important moment.
"This 100 milestone was at the top of the list for deciding when to head overseas, it was definitely something I wanted to achieve before I headed off.
"I guess that explains how much it means for me and my family."
Scott "Razor" Robertson has been head coach at the Crusaders since '17. He's been a mentor, a guide, and a witness to Richie's growth into one of world's most in-form first-fives.
"He's special to us and to me personally, and what he's done for the Crusaders is incredible on and off the field. He's a player that fronts up each week, he's world-leading in what he does, and we're just really proud of him," Razor said.
"He's a winner, he knows how to close games out and how to be brave in big moments. And that's only grown on the bigger stages – every time he's had the opportunity, he's fronted for us.
"To get to 100, it means a lot to him – it's something he's wanted to do right from the start."
Richie has scored 1109 points for the Crusaders and averaged 73 minutes per game. When Richie has played the team has won 85 per cent of their games.
He is currently the sixth highest point scorer in Super Rugby history (Dan Carter leads with 1708).
He's also played 45 games for the All Blacks, scoring 372 points – 54 of which were at the 2019 Rugby World Cup in Japan.