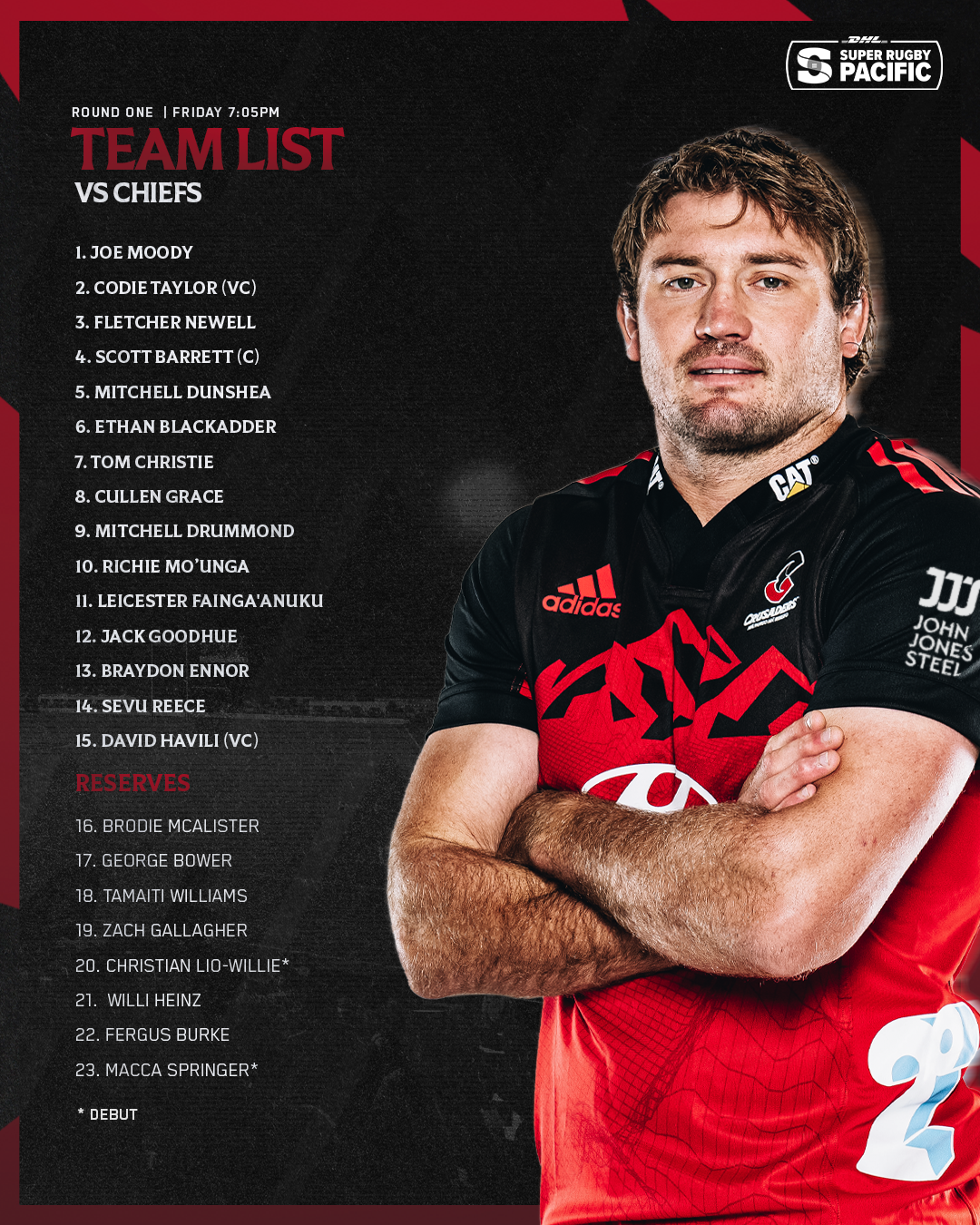 The Crusaders are back into it. The stage is set. The boys are ready. Everything is on the line.

They head into Round 1 of Super Rugby Pacific 2023 against the Chiefs, in Christchurch at Orangetheory Stadium.

As we officially begin the season, here is the team that will take the field this Friday 24 February – kick-off at 7:05pm. 

Scott Robertson, Crusaders Head Coach, said he's eager to take on the Chiefs in their first game of the '23 season. 

"[The Chiefs] have capacity to go deep, they've got guys that can create so much. They're physical, they're tough. We love playing with them, they love playing with us. There's a lot of history," said Robertson.   

The Crusaders have a squad of promising new players on the rise, as well as experienced athletes in the mix. A high calibre of players to select from; week in, week out.  

Keep an eye out for two exciting players, Christian Lio-Willie and Macca Springer, as they potentially make their debut for the Crusaders on Friday.   

Robertson said as they look ahead to taking out a 7th straight title, for now the team is "focused on making sure we get this weekend right". 

"Making sure we get our connections and combos right for this week. Focusing on what's required, just good energy and getting excited."  

"It's important we get our best team on," Robertson said.   

David Havili will be stepping into Fullback after what Robertson described as, "what was the best thing for the team".  

"That's a reflection of him as a player, the quality of skillset and experience he's got."   

Scott Barrett said, "the boys have put in plenty of work and are excited to get started." 

"We're excited to be home and have the crowd turn out for us. 

We are buzzing for that countdown to kick-off and see the season in action.