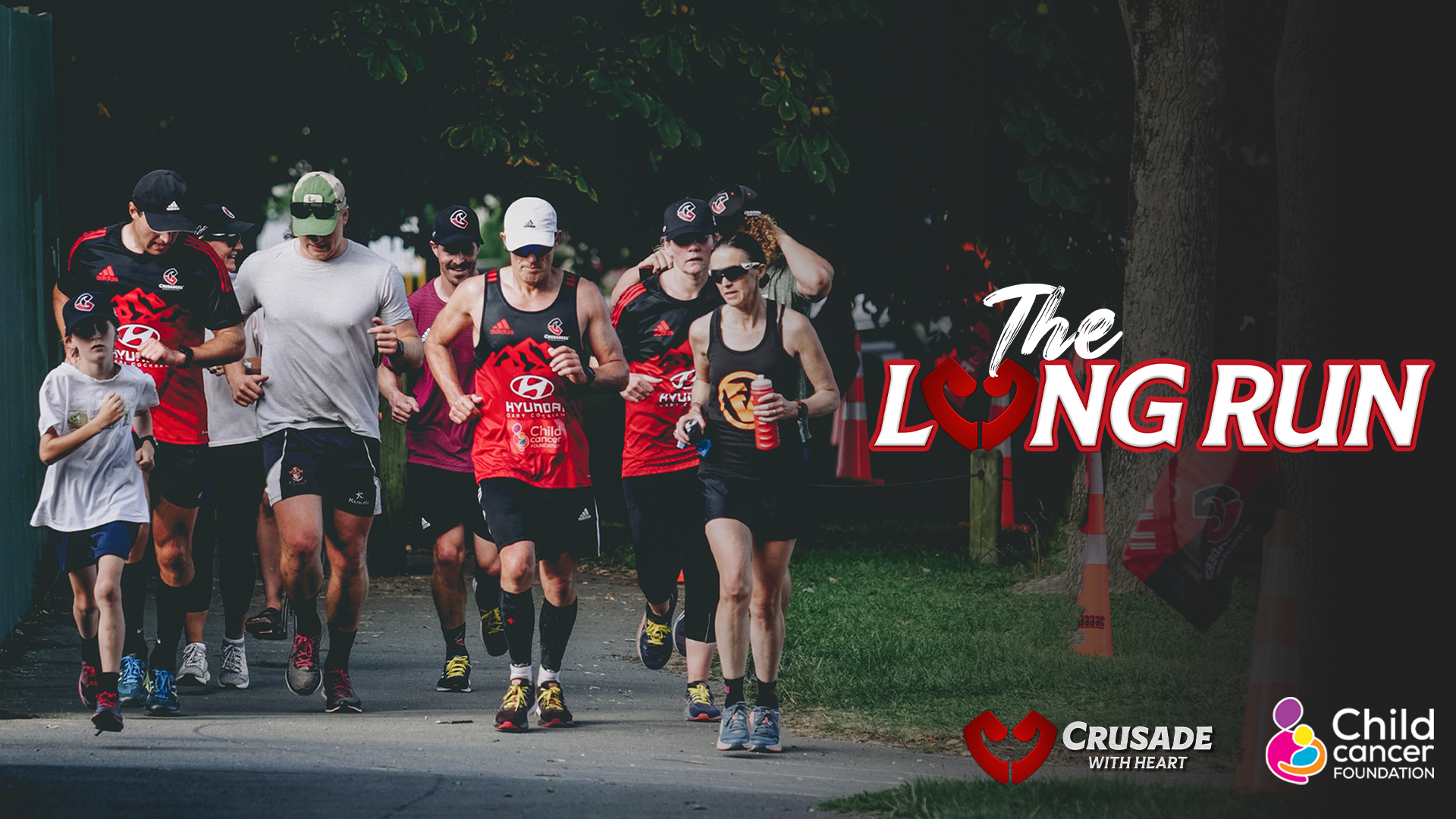 REGISTRATIONS
We would love you to all register on the day, its free to do so. We would love to know how many legends in our community have come along to do their part and support The Child Cancer Foundation. Head to the large black Crusaders Marquee near the start/finish line in Malvern park. At this point you will have the option to donate to the Child Cancer Foundation too via card or cash.
THE MORE YOU RUN THE MORE WE RAISE!
Make every lap count. There will be token stations on the course. Be sure to grab one each time you go around so we can count how many laps we have completed in total. As John Jones Steel will be donating $1 for every lap completed up to the value of $5000.
THE BATON
The Baton will go around 153 times and will be carried by a new person for each lap as this is a team effort! Of course we will have more than 153 runners so not everyone will get the chance to carry the baton, however if you would like to carry the baton for a lap then make yourself known to our event staff at the start/finish line.
CRUSADERS & MATATŪ PLAYERS
The Crusaders Open Training is from 11-12pm. Then they will be out on Malvern Park from 12:30-2pm. The Matatū players will be there between 3:30-4:30pm. After a big week of pre-season training they will be focused on cheering YOU on!! However we're sure the Coaches and management staff will have plenty left in the tank for a lap or two and the Academy players will be using the run as a training session between 3:30-4:30pm, so come see how fast some of our future stars are!
MORNING & EVENING FREE COMMUNITY HIIT CLASSES
The HIRT LAB will be running a free community class on Malvern Park from 5am. Or if mornings aren't your thing The HIIT Squad will be hosting a free community class at 5:10pm. Naturally both classes will finish with a few laps of course!
MEMBERSHIP & MERCHANDISE TRAILER
Crusaders and Matatū 2023 memberships and a range of merchandise will be available to purchase all day to ensure you have you seats sorted and are and kitted out for the 2023 seasons! See our membership offerings and merchandise ranges here. (Tiles for CRUS Membership, CRUS Shop, Matatū membership, Matatū shop)
FOOD TRUCKS
We have a range of food trucks including a coffee cart who will be there bright and early ensuring everyone has their morning caffeine fix. Food options available include:
Coffee Van from 6am
Bacon Bros from 7am
Saucy Kiwis, Pita Pitt, Mr Whippy & Slushies / Donuts from 12pm
Kung Fu Dumplings from 1pm
SKILLS & DRILLS PLUS RUGBY INFLATABLES
We will be running three fun rugby skills sessions for kids in the middle of the park from 10-10:45am, 12-12:45pm and 2:30-3:30pm. These sessions will be relatively informal but will be run and led by Canterbury Rugby's Coach Educators.
WATER & SUNBLOCK!
It's going to be a scorcher! So hydration and sun protection will be key. Whilst there will be a Hydration Station thanks to our friends at Powerade we encourage you to bring your own drink bottles to ensure we are as environmentally friendly as possible. Please ensure you bring a hat and are wearing sunblock, we will have some sunblock available at our registration tent for anyone that forgets.
PARKING
Parking around Rugby Park can be challenging on the best of days and we are anticipating a large crowd. Our friends at Isaac Construction are managing our Traffic Management Plan on the day to keep everyone safe. Speed limits will be reduced on Innes Road, Rutland Street and Roosevelt Avenue and Malvern Street will be closed to all public traffic. Parking on side streets and a short walk to warm up the legs will be your best bet.
PERSONAL BELONGINGS
If you don't have someone to look after your personal belongings whilst you run/walk, then we encourage you to leave any valuables at home. For those that need it, we will have some plastic bins for you to store your bags or keys in at our Registration Tent.